WHP Top 100 Remedies Kit
Aconitum Napellus, Aesculus Hippocastanum, Agaricus Muscarius, Allium Cepa, Aloe Socotrina, Anacardium Orientale, Antimonium Crudum, Antimonium Tartaricum, Apis Mellifica, Argentum Nitricum, Arnica Montana, Arsenicum Album, Baptisia Tinctoria, Belladonna, Bellis Perennis, Berberis Vulgaris, Bryonia Alba, Cactus Grandiflorus, Calcarea Carbonica, Calcarea Fluorata, Calcarea Phosphorica, Calcarea Sulphurica, Calendula Officinalis, Cantharis, Carbo Vegetabilis, Caulophyllum Thalictroides, Causticum, Chamomilla, Cimicifuga Racemosa, Cinchona Officinalis, Cocculus Indicus, Coffea Cruda, Colocynthis, Conium Maculatum, Cuprum Metallicum, Digitalis Purpurea, Drosera Rotundifolia, Echinacea Angustifolia, Eupatorium Perfoliatum, Euphrasia Officinalis, Ferrum Phosphoricum, Gelsemium Sempervirens, Glonoin, Graphites, Hamamelis Virginica, Hepar Sulphuris Calcareum, Hypericum Perforatum, Ignatia Amara, Ipecacuanha, Kali Bichromicum, Kali Carbonicum, Kali Muriaticum, Kali Phosphoricum, Lac Caninum, Lachesis, Ledum Palustre, Lycopodium Clavatum, Magnesia Phosphorica, Mercurius Corrosivus, Mercurius Vivus, Natrum Muriaticum, Natrum Phosphoricum, Natrum Sulphuricum, Nux Vomica, Petroleum, Phosphoricum Acidum, Phosphorus, Phytolacca Decandra, Podophyllum Peltatum, Pulsatilla Nigricans, Pyrogenium, Rhus Toxicodendron, Rumex Crispus, Ruta Graveolens, Sabadilla, Sabina, Sanguinaria Canadensis, Sarsaparilla, Secale Cornutum, Sepia, Silicea, Spigelia Anthelmia, Spongia Tosta, Staphysagria, Sulphur, Symphytum Officinale, Thuja Occidentalis, Urtica Urens, Valeriana, Veratrum Album, Zincum Metallicum, Kit-a4.
WHP Top 100 Remedies Kit is temporarily out of stock
If you would like to know more, please

Contact Us
You may be interested in these similar combinations: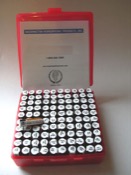 Below are the main rubriks (i.e strongest indications or symptoms) of WHP Top 100 Remedies Kit in traditional homeopathic usage, not approved by the FDA.

WHP Top 100 Remedies Kit is not available to buy over the counter.