Senecio Jacobaea
Senecio Jacoboea, Senecio, Senec-j.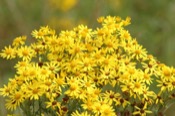 Have you ever used Senecio Jacobaea? Yes No


Below are the main rubriks (i.e strongest indications or symptoms) of Senecio Jacobaea in traditional homeopathic usage, not approved by the FDA.
Materia medica entries of other remedies mentioning Senecio Jacobaea
Erech > general
Erechthites hieracifolia. Senecio hieracifolia. Fireweed. N. O. Compositae. Tincture of whole fresh plant.
Senec > general
Senecio aureus (Variety, Gracilis). Golden Ragwort. Squaw-weed. (United States, North and West; found in swamps.) N. O. Compositae. Tincture of fresh plant in flower.
Cin-m > general
Senecio cineraria. Dusty Miller. N. O. Compositae. Tincture or succus of the fresh plant, growing wild, gathered just before the flower-buds open.
Sang-n > general
remedies such as Pulsatilla, Sanguinaria, Senecio gracilis and Coccus cacti, which palliate, mitigate his sufferings, and may even build him up so that he could take a medium potency of a deep remedy.
Senec > general
Women Senecio, is to be studied in relation to young girls with menstrual irregularities.
Senec > general
When the symptoms agree in this kind of a case Senecio is a most useful medicine for establishing the menstrual flow. You will know that it is acting well by the fact that the cough gradually diminishes. Of course a great many medicines will be suited to such general states, but this one has an unusually marked and special relation to these cases. In certain regions, Senecio has been used as a domestic medicine, an old woman's remedy for bringing on the menstrual flow.
Senec > general
We have other medicines having the symptoms of vicarious haemorrhage, such as Hamamelis, Phosphorus and Bryonia, but Senecio has this condition strikingly and is one of the newer remedies for such condition.
Cop > relationships
Compare: Santalum - (aching in kidneys); Cannab.; Canth.; Barosma; Cubeb; Apis; Vespa; Erig.; Senecio; Sepia.
Eup-pur > relationships
Compare: Senecio; Cannab. Sat.; Helon.; Phos-ac.; Triticum; Epigea.
Helon > relationships
Compare: Agrimonia - Cocklebur - (painful kidneys, impaired digestion and menstrual difficulties; Bronchorrhea and catarrh of bladder. Cough with profuse expectoration attended with expulsion of urine. Tincture 1-10 gtt.). Aletris; Lilium; PULS.; Senecio; Stannum.
Mit > relationships
Compare: Chimaph.; Senecio; Uva; Geran.; Gossip.
Polyg-h > relationships
Compare: Carduus MAR ( ulcers); Hamam.; Senecio; Polygonum persicaria (renal colic and calculi; Gangrene); polygonum sagittatum - arrow-leaved. Tear-thumb - (2x for Pains of nephritic colic; suppurative nephritis; lancinating pains along spine; itching of hard palate; burning inner side of right foot and ankle. C.M. Boger); Polygonum aviculare - knot-grass - (in material doses of tincture, found useful in phthisis pulmonalis and intermittent fever, and especially in Arteriosclerosis. Erythema).
Senec > relationships
Compare: Senecio Jacobaea (cerebrospinal irritation, rigid muscles, chiefly of neck and shoulders; also, in cancer); Aletris; Caulop.; Sep.
Trit-r > relationships
Compare: Tradescantia; (Hemorrhage from ear and upper air passages; painful urination, urethral discharge; scrotum inflamed). Chimaph.; Senecio; Populus Trem.; Buchu; Uva. Polytrichum juniperinum - Ground Moss - (Painful urination of old people; dropsy, urinary obstruction and suppression).
Erech > appendix
Erechthites hieracifolia, Raf. (Senecio hieracifolius, Linn.).
Erech > general
Belonging to the Compositae, and closely allied to Erigeron and the Groundsel family (Senecio), "Fireweed" (so called because it grows abundantly in clearings which have been burnt out) has been used empirically in haemorrhages, especially metrorrhagia, and as a local application in skin affections, herpes, eczema, psoriasis, and indolent ulcers. A short proving has shown an action over the circulatory apparatus, producing flushes of heat which suddenly give way to coldness. Another marked feature is increased appetite.
Tanac > general
The common Tansy (the word is derived from αθανασια, immortality), with its deep-yellow button-like flowers, a close companion of the Rag-wort (Senecio Jacobea) on our commons and in our hedgerows, takes a not unimportant part in giving colour to the landscape. In olden times puddings were made containing Tansy leaves, and these puddings were called "tansies" also. "In the springtime are made with the leaves hereof newly sprung up, and with eggs, cakes or tansies, which be pleasant in taste and good for the stomach. For if any bad humours cleave thereunto, it doth perfectly concoct them and scour them downwards" (Gerarde). Gerarde also says that the seeds kill and expel worms of every sort.
Mill > relationships
Senecio aur., is excellent in haematuria; renal pains with nausea.
Erech > relationships
Compare Senecio, Erigeron, Hamam., Millefol., Calc., Canth., Tereb., Puls., Clematis.