Platanus
Sycamore-button Wood, Platanus Occidentalis, Plata.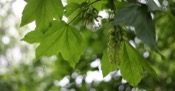 Have you ever used Platanus? Yes No


Below are the main rubriks (i.e strongest indications or symptoms) of Platanus in traditional homeopathic usage, not approved by the FDA.
▲ GENERAL
General
Tarsal tumors. Apply the tincture. Both acute and old neglected cases, where destruction of tissue occurred and cicatricial contraction caused marked deformity of lid, restored to practically normal conditions. Acts best in children. Must be used for some time. Ichthyosis.
Materia medica entries of other remedies mentioning Platanus
Cin-m > general
Has some reputation in the cure of cataract and corneal opacities. Is used externally, by instilling into the eye one drop four or five times a day. This must be kept up for several months. Most effective in traumatic cases. Compare in cataract Phosph.; Platanus; Cannabis; Causticum; Naphthalin; Ledum; Nat-mur.; Silica.
Plat-m > general
The original name of Platinum was "Platina," being a Spanish word meaning "like silver" (Plata being Spanish for silver). The metal was introduced into Europe from South America in the middle of the eighteenth century. It is always found in association with other metals, chiefly Rhodium, Osmium, Iridium, Palladium. Hahnemann was the first to think of it as a medicine, and his proving in the Chronic Diseases is the basis of our knowledge of its action. One characteristic symptom, either when found alone or in association with other conditions, has led to many cures with Plat.
Staph > eyes
chalazae ( Platanus.) Eyes sunken, with blue rings