Echinacea Purpurea
Purple Echinacea, Echin, Echinac, Echinacea, Echinacea Rudbeckia, Purple Cone Flower, Echinacea purpurea., Ech-p.
HPUS
indication of Echinacea Purpurea:
Fever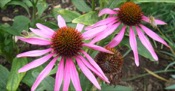 Have you ever used Echinacea Purpurea? Yes No


Below are the main rubriks (i.e strongest indications or symptoms) of Echinacea Purpurea in traditional homeopathic usage, not approved by the FDA.
▲ GENERAL
General
Echinacea purpurea. Black Sampson. (Eastern States of America.) N. O. Compositae. Tincture of fresh root.
Clinical
Diphtheria. Putrid fevers. clinical
Characteristics
I mention this plant, which is a popular remedy in the Eastern States, because it has been used in place of Echinacea Angustifolia Ech. ang. It has probably a very similar action, and the root causes the same pungent sensation on lips and tongue as the tincture of Echinacea Angustifolia Ech. ang. It well deserves a proving. The black root has been taken as a "signature" of the remedy in cases of low fevers where a black tongue was observed.
Materia medica entries of other remedies mentioning Echinacea Purpurea
Rhus-t > general
The effects on the skin, rheumatic pains, mucous membrane affections, and a typhoid type of fever, make this remedy frequently indicated. Rhus Toxicodendron affects fibrous tissue markedly - joints, tendons, sheaths - aponeurosis, etc., producing pains and stiffness. Post-operative complications. Tearing asunder pains. Motion always "limbers up" the Rhus patient, and hence he feels better for a time from a change of position. Ailments from strains, overlifting, getting wet while perspiring. Septic conditions. Cellulitis and infections, carbuncles in early stages ( Echinac.) Rheumatism in the cold season. Septicaemia.
Echi > general
(Echinacea angustifolia is the Western species of E.; not to be confounded with E. purpurea, or Black Sampson, the Eastern species.) N. O. Compositae, allied to Rudbeckia. Tincture of whole fresh plant.
Bapt > relationships
Compare: Bryonia and Arsenic may be needed to complete the favorable reaction. Ailanthus differs, being more painful. Baptisia Tinctoria more painless. Rhus; Muriat. Acid; Arsenic; Bryon.; Arnica; Echinac. Pyrogen. Baptisia Tinctoria confusia ( Pain in right jaw and oppression in left hypochondrium, producing dyspnoea and necessity to assume erect position.)
Pyrog > relationships
Compare: Streptoccin (anti-febrile action; septic symptoms in infectious diseases). Rapid in its action, especially in its effect on temperature); Staphloccin in diseases where the staphylococcal is the chief bacterial factor, as acne, abscess, furuncle; empyema, endocarditis, etc.); Sepin - a toxin of Proteus vulgaris, prepared by Dr. Shedd, same symptoms as Pyrogenium, of which it is the main constituent; Echinacea; Carbo; Ars.; Lach.; Rhus; Bapt.
Tarent-c > relationships
Compare: Ars.; Pyrog.; Crotal.; Echin.; Anthrac.; Bellad.; Apis.
Echi > general
Echinacea angustifolia has long been prized by eclectics in low typhoid conditions, diphtheria, malignant scarlatina, carbuncles and boils, and as a remedy in snake-bites. A remarkable case of vaccinal poisoning is recorded (H. R., x. 527) in a man, 45, cured mainly by Echin. in 20-drop doses. The symptoms were vitality ebbed.
Echi > general
the nails fell off. Left iritis supervened, and then keratitis of the right eye. Under Kali iod., and phospho-albumen as a food, the hair ceased to fall off, but other symptoms became rapidly worse. Echin. was now given, and slowly the disease was arrested.
Echi > general
then gradual improvement and ultimate cure ensued. The report does not mention if the sight of the left eye was recovered. Homoeopathists have generally followed the eclectics in using substantial doses. Fortunately we are now much better placed to understand Echin., thanks to an extensive proving undertaken by J. C. Fahnestock, with additional symptoms contributed by T. C. Duncan (H. R., xiv. 337, 386). With one exception the provers were males. The first symptom noticed was a biting, tingling sensation on the tongue, lips, and fauces (compare Acon.) with a sense of fear and pain about the heart. Febrile symptoms, full head, flushed face and accelerated pulse followed. Languor was experienced by many provers, and neuralgic, sharp, darting, shifting pains. Catarrh of the digestive add respiratory tracts. Griping pains, offensive flatus and loose yellowish stool. Drowsiness was a very marked feature. The symptoms were agg. after eating.
Ail > relationships
Compare  Am. c., Arn., Arum tr., Aloe (dull frontal headache), Bap., Bry., Gels., Hyo., Lach., Nit.  ac., Nux v., Phytol., Hydrocy. ac., Rhus t., Stram., Echin. a.    SYMPTOMS.
Merc-cy > relationships
Compare Ar. tri., Caust., Hep., K. bi.., Phyt., Echin., Lach., Gels.
Eupho > skin
Old torpid ulcer, pustules; Gangrene ( Echinac.; Secal.) Ulcerating carcinoma and epithelioma of the skin.