Lamium Album
White Nettle, Lamium

Available
in 2X-30X, 12C-30C, Q from $6.50
Purchase options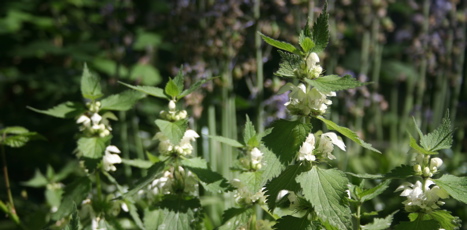 Homeopathic remedies are prescribed on the basis that in a tiny dilution like cures like, so while very dilute Lamium Album may help, unprocessed Lamium Album may be best avoided.
Below are the main rubriks (i.e strongest indications or symptoms) of Lamium Album in traditional homeopathic usage, not reviewed by the FDA.
▲ GENERAL
General
Has a special affinity for female and urinary organs. Headache, With backward and forward motion of head. Leucorrhoea and menses too early and scanty. Hemorrhoids; hard stool, with blood. Sensation in urethra as though a drop of water were flowing through it. Tearing in the extremities. Hemoptysis. Blisters on heel from slight rubbing. Ulcers on heel ( Allium Cepa Cepa.)
Dose
Third potency.
▲ MIND
Mind
Emotions, feelings, attitude, disposition; forsaken feeling
unhappy; sadness, mental depression
Intellectual faculties; impaired thinking; difficulty concentrating
impaired thinking; confusion; as after being intoxicated
Insecure, uncertain, scared; anxiety; during chill
Thoughts (see preoccupied); persistent (see delusions)
▲ HEAD
Head
Movements of head; backward and forward
Pulsating
Headache
Pain, headache; from certain movements; rising (see morning, noon, night, etc., on rising, also movement; raising head); from sitting
sitting
walking; while walking in open air
pressing (see bursting, pulling)
sides; both sides
stitching, sudden, sharp
▲ EYES
Vision
Lost vision, blindness
▲ EXPECTORATION
Expectoration
Hawked up; mucus
▲ BACK AND NECK
Back
Pain; bending backward
sacrum (base of spine)
▲ GENITALS ETC
Female
Female; vaginal discharge; strong and sharp (acrid), wearing away skin
vaginal discharge; offensive smelling
Menses
period; scanty
▲ EXTREMITIES, LIMBS
Extremities, limbs
Pain; tearing
tearing; thigh; back of thigh