Ilex Aquifolium
American Holly, Ilex-a.
HPUS
indication of Ilex Aquifolium:
Diarrhea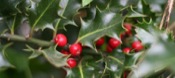 Have you ever used Ilex Aquifolium? Yes No


Below are the main rubriks (i.e strongest indications or symptoms) of Ilex Aquifolium in traditional homeopathic usage, not approved by the FDA.
▲ GENERAL
General
Intermittent fever. Marked eye symptoms, spleen pain. All symptoms better in winter.
≡ show all authors ...
▲ RELATIONSHIPS
Relations
Ilex paraguayensis - Yerba Mate - (Persistent epigastric pain; sense of dryness of mouth and pharynx, anorexia, pyrosis, nervous depression, neurasthenia. Somnolence; incapacity for work, diminution of urinary secretion, headache and pruritus. Hemicrania. Renal colic. Is said to be of use as a prophylactic against sunstroke, being a safe stimulant to the circulation, to diaphoresis and diuresis.) Ilex vomitoria - Yaupon - (Emetic properties - Possesses also tonic and digestive qualities, free from sleepless effects. Has an active principle said to act as a powerful diuretic - employed in nephritis and gout). Ilex cassine - (Christmas berry Tea) - Excellent diuretic and substitute for tea.
⥄ Show reverse lookup of Ilex Aquifolium relationships from all sources
▲ EYES
Eyes
Infiltration of cornea; staphyloma; nightly burning in orbits, rheumatic inflammation of eye; pilosis.
≡ more ...