Arbor Vitae, Thuja, Thuya, Thuja Occidentalis, Thuya occidentalis, Thuj.
HPUS
indication of Thuja Occidentalis:
Warts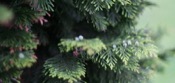 Below are the main rubriks (i.e strongest indications or symptoms) of Thuja in traditional homeopathic usage, not approved by the FDA.


Have you ever used Thuja? Yes No


< < Thuja- main page
GENERALITIES
Sleep
Heavy, cannot get awake mornings.
Sleeplessness; sees apparitions on closing the eyes; parts lain on painful; from heat and restlessness; from mental depression.
Dreams anxious when sleeping on left side.
Nausea and vomiting
Eructations rancid, or acid; of air, while eating.
Vomiting of mucus, or greasy substances.
Eating and drinking
While eating 16. After breakfast 20. Drinking 17; cold water 28. Eating or drinking cold things 27. Tea 10, 48. Coffee 20. Fat food 20. Onions 20.
Tissues
Emaciation and deadness of affected parts.
Sycosis.
Affects prominently epithelia, first causing hardening, hypertrophy; then softening.
Indurations; later, softening.
OEdema about the joints.
Contact, Injuries, etc.
Touch 1, 4, 8, 20, 40. Pressure 4. Rubbing 4, 5. Scratching 46. Riding 23.
Nerves
Limbs go to sleep.
Sensation of lightness of body when walking.
Paralysis of one side.
Jerks of the upper part of the body. θ Chorea.
Debility worse mornings.
Nervous symptoms accompany or depend upon affections of skin or mucous membranes; hence, neuralgia from checked eruptions; from suppressed gonorrhoea, etc. See 48.
Temperature and weather
Sun 8. Warmth 34, 37. Warm wraps 4, 5. Warm bed 4. Room 7. Covered parts 40, 46. Uncovered parts 4, 5, 40. Out-doors 7. Open air 3, 5. Cold 34. Washing 8.
Chill, Fever and Sweat.
Chill it attacks mostly evenings; on left side, which feels cold to the touch; after 12 P.M. and in the morning, without thirst; internal, with external heat and violent thirst; then sweat.
Heat mornings, chills afternoons; evenings, mostly in face; dry of covered parts; burning, in the face, without redness.
Sweat only on covered parts; general, except the head; when walking in the morning, mostly on the head; during sleep, stops when he awakens; oily, fetid, smelling sweat.
Attacks
Periodically 29. Third month 24.
Sides.
Left 3, 8, 22, 23, 24, 29, 40. Right 11. Right to left 18.
Generalities
Flesh feels as if beaten off the bones.
≡ more ...