Senecio Jacoboea, Senecio, Senec-j.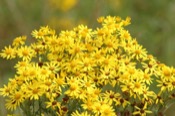 Have you ever used Senecio Jacobaea? Yes No


< < Senecio Jacobaea- main page

Below are the main rubriks (i.e strongest indications or symptoms) of Senecio Jacobaea in traditional homeopathic usage, not approved by the FDA.
RECTUM, ANUS, STOOL
Rectum
Painful tenesmus (sixth day),
Stool
Copious diarrhoea, in the morning, attended with great debility and prostration (second day),
Diarrhoea and colic in the evening; stool of a thin watery character (sixth day); thin watery stool, in the evening and at night (seventh day); thin and watery (eighth day),
Thin watery stools, containing hard lumps (second day),
Stools of a watery character (third day),
Stool containing blood (sixth day),
≡ more ...