Senecio Jacoboea, Senecio Senec-j.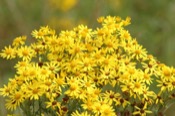 Below are the main rubriks (i.e strongest indications or symptoms) of Senecio Jacobaea in traditional homeopathic usage, not approved by the FDA.


Have you ever used Senecio Jacobaea? Yes No


< < Senecio Jacobaea- main page
APPENDIX
Authorities
1, Dr. A. E. Small, U. S. Med. and Surg. J., 1866, p. 151, proving with 40 drops of tincture, three times, first day; once, second day; 2, same, another person took 60 drops of tincture in the same way; 3, Dr. G. W. Jones, Hale's "New Remedies," 1867, p. 971, repeated doses for seven days of 10 drops to a teaspoonful of tincture; 3a, same, took, subsequently, tincture, 10 to 100-drop doses; 3b, same, subsequently took tincture 30 drops, three times a day, for three days, then 10 drops twice a day, fourth and fifth days; a teaspoonful, twice, sixth day; three times, seventh; twice, eighth day; 10 drops, morning, twelfth day.
Preparation
Senecio Aureus Senecio aureus, L.
Natural order, Compositae.
Common names, Golden ragwort, Squaw-weed, etc.
Preparation, Tincture of the whole plant.
≡ more ...