Pink Elder, Sambucus, Samb.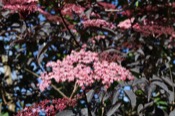 Below are the main rubriks (i.e strongest indications or symptoms) of Sambucus Nigra in traditional homeopathic usage, not approved by the FDA.


Have you ever used Sambucus Nigra? Yes No

VERTIGO, DIZZINESS
Vertigo
Dizzy in the morning, on rising,
Dizziness, obscuration of the head, lasting a few minutes (after one hour),
Dizziness on moving the head, with a tensive sensation as if water were in it (after twenty-four hours),
Very giddy on rising, in the morning; in the forenoon the giddiness increased so much that he staggered in walking, like a drunken man (second day),
General Head.
Violent headache (first night),
Pressure from within outward to all sides of the head,
Pressive stupefying headache, as in catarrh,
Pressive stupefying headache, as from intoxication (after twenty hours),
≡ more ...