Pink Elder, Sambucus, Samb.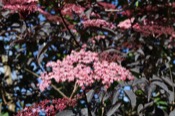 Below are the main rubriks (i.e strongest indications or symptoms) of Sambucus Nigra in traditional homeopathic usage, not approved by the FDA.


Have you ever used Sambucus Nigra? Yes No

SKIN
Skin
Red spots here and there on the cheeks, with a burning sensation (after one hour),
A painless suppurating pimple, with red areola, on the left side of the lower lip (after thirty-seven hours),
Sudden painful drawing in all points over the surface of the body, while sitting (after three hours),
Itching on the back of the nose, with a slight sensation of numbness of the skin (after three hours and a half),
Violent itching on the patella, with a raw scraping sensation; a sensation as if an eruption would break out (after four hours and a half),
≡ more ...