Pink Elder, Sambucus, Samb.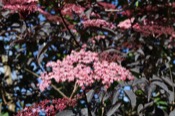 Below are the main rubriks (i.e strongest indications or symptoms) of Sambucus Nigra in traditional homeopathic usage, not approved by the FDA.


Have you ever used Sambucus Nigra? Yes No

MODALITIES ETC
Aggravation
(Morning), On rising, dizzy.
(Moving head), Dizziness.
(Moving neck), Stitches in cervical muscles.
(Pressure), Stitches below stomach.
(During rest), Pain in bones of wrist and along radius; most pains.
(While sitting), Sticking beneath right scapula.
(While standing), Pressure in small of back; weariness and feeling of coldness in legs.
(On walking), Pain around hip-joint; general heat.
Amelioration
(During motion), Most pains.