Pink Elder, Sambucus, Samb.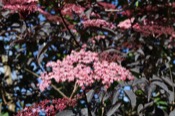 Have you ever used Sambucus Nigra? Yes No


Below are the main rubriks (i.e strongest indications or symptoms) of Sambucus Nigra in traditional homeopathic usage, not approved by the FDA.
MODALITIES ETC
Aggravation
(Morning), On rising, dizzy.
(Moving head), Dizziness.
(Moving neck), Stitches in cervical muscles.
(Pressure), Stitches below stomach.
(During rest), Pain in bones of wrist and along radius; most pains.
(While sitting), Sticking beneath right scapula.
(While standing), Pressure in small of back; weariness and feeling of coldness in legs.
(On walking), Pain around hip-joint; general heat.
Worse
WORSE, sleep, during rest, after eating fruit.
Dry, cold air
Cold drinks, while heated
Head low
Amelioration
(During motion), Most pains.
Better
BETTER, sitting up in bed, motion. Relationship.
Pressure over a sharp edge
Motion
Wrapping up
Desires and aversions
Thirst, but drink is not palatable.
Position etc
Motion 3, 40. Springing up 25. Sitting up 26. Bending back 4. Throws arms about 26. Rest 27. Lying 40; with head low 27. Leaning 19. Cannot move 4.
Morning 40. Night 6, 25, 27, 37, 40. About or after midnight 26, 27. Day 27.