Pink Elder, Sambucus, Samb.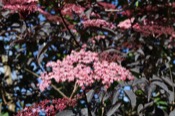 Below are the main rubriks (i.e strongest indications or symptoms) of Sambucus Nigra in traditional homeopathic usage, not approved by the FDA.


Have you ever used Sambucus Nigra? Yes No

HEAD
Headache
Pressive headache in the forehead and a sudden painful jerk through the brain, from one side to the other (after a quarter of an hour),
Tearing pressive headache in the upper part of the forehead, with pains streaming down into the eye (after two days),
Pressive tearing headache over the left temple, in the bone, on stooping,
Burrowing headache in the vertex (after a quarter of an hour),
Outer head
Itching on the forehead relieved by rubbing (after a quarter of an hour),
Temples
Pressure outwards in the temples (after one hour),
Very transient intermittent tearing in the temples, more in the bone (after ten hours),
Vertex and Occiput.
Tearing stitch through the left half of the occiput, frequently returning and lasting a long time, with a dull sensation in the same place, during the intervals (after half an hour),
≡ more ...