Pink Elder, Sambucus, Samb.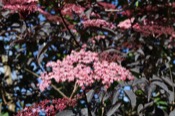 Have you ever used Sambucus Nigra? Yes No


Below are the main rubriks (i.e strongest indications or symptoms) of Sambucus Nigra in traditional homeopathic usage, not approved by the FDA.
HEAD
Head
Congestion (see pulsation); on coughing
fullness
Constriction, tension (see also pulling, pressing)
Pulled; backward
Movements in head
swimming, as from alcohol (see confusion of mind)
swashing sensation
Movements of head
falling (see heaviness); backward
jerking of the head; from one side to another
Swollen, and feeling swollen
on waking
Uncovering head
Headache
Hydrocephalus (water on the brain: headache, drowsiness, vomiting)
Pain, headache
morning
with catarrh
from catching cold
with running or blocked nose
from emotions; after a fright
certain movements; movement in general
from certain movements; movement in general
from certain movements; on moving head
from certain movements; from stooping
extending to other parts; back
bones
in forehead
sides; one side
sides; left
boring, digging, screwing
top of head (vertex)
burrowing
pulling; tightening
dull pain; back of head (occiput)
jerking
alternating sides
pressing (see bursting, pulling)
apart
outward
forehead
sides
temples
temples; outward
stitching, sudden, sharp; back of head (occiput)
stunning
tearing, rending
forehead
Shocks, blows, jerks, etc. (see jerking pain, pulsation, plug, nail)
Scalp
Skin and scalp
erysipelas (inflamed from infection, deep red colour); left
itching; forehead
rubbing
perspiration; scalp; except the head
≡ more ...