Pink Elder, Sambucus, Samb.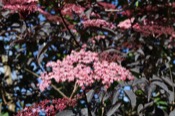 Have you ever used Sambucus Nigra? Yes No


Below are the main rubriks (i.e strongest indications or symptoms) of Sambucus Nigra in traditional homeopathic usage, not approved by the FDA.
FEVER AND CHILL
Fever
Chilliness.
Shivering over the whole body, with fine sticking crawling here and there, especially with very cold hands and feet; shivering especially extending from the feet to the knees (after a quarter of an hour),
Coldness creeps over the whole body, especially on the hands and feet, which are cold to touch, though the latter may be warmly wrapped up (after half an hour),
Repeated attacks of slight shivering (after half an hour),
Shaking chill before going to bed (after four hours),
Slight chilliness, though the face was warmer than usual (after one hour),
Hands very cold (after one hour),
Icy-cold feet, though the body was otherwise warm (after three-quarters of an hour),
Heat
Hot and feverish (first day),
Violent general heat while walking (after three hours),
Decided heat is noticed on touch, especially in the palms of the hands and soles of the feet,
Intolerable sensation of dry heat over the whole body,
During the heat dread of uncovering; it seemed as though he would take cold or be attacked with colic,
Heat over the whole body, without thirst, soon after lying down (after two hours),
Sensation of warmth in the head and throat; even to touch the face and other parts of the body were warmer than usual, though without thirst,
Frequent flushes of heat, with great heat of the face, and after half an hour sweat broke out upon the face, in the afternoon (after ten hours),
Sensation of burning heat in the face, with moderate warmth of the body and icy coldness of the feet, without thirst (after one hour),
≡ more ...