Pink Elder, Sambucus, Samb.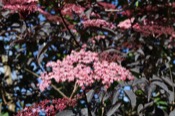 Have you ever used Sambucus Nigra? Yes No


Below are the main rubriks (i.e strongest indications or symptoms) of Sambucus Nigra in traditional homeopathic usage, not approved by the FDA.
FEVER AND CHILL
Fever and chill
Noon
Evening
In bed
Beginning in particular area; hands; and feet
Creeping
Periodic, recurring
recurring daily
irregular
Shaking, shivering, rigors
night
before going to bed
partial
During sleep
After sleep
At certain time of day or night
from 3 p.m.
from 4 p.m.
from 5 p.m.
from 6 p.m.
When uncovering, undressing
On waking
Warmth; external warmth
As if cold wind were blowing; on the body
Alternating with chills
In bed (see night and warmth)
Burning heat
Burning heat; during sleep
With chill
Dry heat
night
during sleep
night; on going to sleep
From exertion
Intense heat
Movement
Comes on suddenly; irregular
Perspiration with heat
Heat comes on during sleep
cold feet and sweat on waking
dry heat
Heat comes on after sleep
Before stool
Stages of chill, heat and sweat; chill followed by heat, then sweat
Aversion to uncovering
Chilliness from uncovering; uncovering during any stage of attack
≡ more ...