Pink Elder, Sambucus, Samb.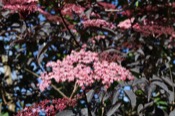 Have you ever used Sambucus Nigra? Yes No


Below are the main rubriks (i.e strongest indications or symptoms) of Sambucus Nigra in traditional homeopathic usage, not approved by the FDA.
FEVER AND CHILL
Fever
Shuddering, with shivering, icy coldness of hands and feet, and pricking tingling in skin.
Shivering and shaking before going to sleep.
Insupportable heat without thirst, with dread to be uncovered.
Fever with excessive perspiration, esp. at night.
Profuse perspiration day and night, but only when awake; first breaking out in the face.
Very debilitating perspiration.
Night-sweats, except on head, agg. towards morning.
Continued perspiration while awake, changing into dry heat as soon as one goes to sleep.
Intermittent fever chills over whole body, with cold hands and feet; followed by intolerably dry heat, without any thirst, accompanied by dread of being uncovered, afterwards copious sweat, without any thirst; the sweat even continues during the apyrexia.
≡ more ...