Pink Elder, Sambucus, Samb.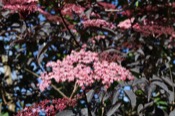 Have you ever used Sambucus Nigra? Yes No


Below are the main rubriks (i.e strongest indications or symptoms) of Sambucus Nigra in traditional homeopathic usage, not approved by the FDA.
EXTREMITIES, LIMBS
Upper extremities
Drawing in forearms and bones of hands.
Dark blue bloatedness of the forearms and hands.
Paralytic heaviness in elbow-joint.
Lancinations in wrists.
Trembling of hands (when writing).
Tearings in joints of fingers.
Lower extremities
Spasmodic drawings and shootings in thighs.
Tension in tendons of ham as if they were too short.
Acute (deep) lancinations in tibia.
Sensation of coldness, numbness, and deadness in the middle of (r.) tibia.
OEdematous swelling of feet as far as knees.
Tearing in legs and ankles.
Icy-cold feet with warmth of the body.
≡ more ...