Pink Elder, Sambucus Samb.
Available
in 2C-30C, 200C, 4X-30X, 30C, 200CH, 1M-10M from $6.59
Purchase options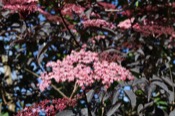 Below are the main rubriks (i.e strongest indications or symptoms) of Sambucus Nigra in traditional homeopathic usage, not approved by the FDA.


Have you ever used Sambucus Nigra? Yes No

EARS
Ear
Heat; right
Inflammation; skin erysipelas (inflamed from infection, deep red colour)
Itching
like insects crawling on skin
like insects crawling on skin; ear canal
Pain
inside (in ear canal)
cramp in
right
spasmodic
inside ear
stitching, sudden, sharp
left
Skin; discoloration; redness
Swelling
below
≡ more ...