Pink Elder, Sambucus, Samb.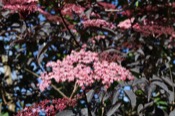 Below are the main rubriks (i.e strongest indications or symptoms) of Sambucus Nigra in traditional homeopathic usage, not approved by the FDA.


Have you ever used Sambucus Nigra? Yes No

CHEST
Chest
Oppression and pressure beneath the sternum, and pressure in the pit of the stomach and epigastric region, with nausea and sense of weakness (after five hours),
Oppression and stitches in the left side of the chest, below the nipple (after five hours),
Cutting griping in the last false ribs, extending to the spine (after nine hours),
Sharp intermittent cutting in front, on the third false rib, especially on moving the trunk (after three hours),
Sudden internal clawing in both sides of the chest, about the fourth true rib (after half an hour),
Pulse
PULSE.
Pulse more rapid, somewhat above 70 (after two hours),
The pulse becomes slower, and falls from 70 to 60 (after half an hour),
Pulse 10 beats slower, but fuller (after six hours),
Pulse frequent and small (third day),
Respiration
Hoarseness caused by much tenacious glutinous mucus in the larynx,
≡ more ...