Pink Elder, Sambucus, Samb.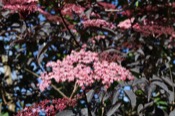 Have you ever used Sambucus Nigra? Yes No


Below are the main rubriks (i.e strongest indications or symptoms) of Sambucus Nigra in traditional homeopathic usage, not approved by the FDA.
CHEST
Pulse
Occasional omission of heart-beat.
Respiration
Anxious, loud; quick, wheezing, crowing.
Oppression of chest, with pressure in stomach, and nausea.
Nightly suffocative attacks, with great restlessness; shedding of tears and throwing about of arms.
Suffocating attacks after midnight.
Child suddenly awakens, nearly suffocated, sits up in bed, turns blue, gasps for breath, which it finally gets; spell passes off; it lies down again, aroused sooner or later in same manner.
Heart and pulse
Orgasm in whole body.
Pulse generally very frequent and small; sometimes slow and full, sometimes intermitting.
Outer chest
Pressure under sternum, with a counter pressure from spine toward sternum.
Compression of chest violent, trembling from pain.
≡ more ...