Pink Elder, Sambucus, Samb.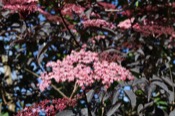 Below are the main rubriks (i.e strongest indications or symptoms) of Sambucus Nigra in traditional homeopathic usage, not approved by the FDA.


Have you ever used Sambucus Nigra? Yes No

CHEST
Chest
Oppression at the chest, with lancinations in (l.) side (below nipple); or with aching under sternum.
Pressure on sternum, with a counter-pressure from spine to sternum.
Oppression of chest, with pressure in stomach, nausea, and weakness.
Pressive pain in chest.
Sudden sensation of contraction in sides of chest.
Heart
Orgasm in whole body.
Angina pectoris where pressure proceeds from spine in individuals formerly fat and robust, now emaciated from mental emotions, sexual excesses, or seminal losses.
Pulse generally very frequent and small; sometimes slow, full, sometimes intermitting.
Pulse
Occasional omission of heart-beat.
Pulse generally small and very quick, at times intermitting.
Respiration
Hoarseness from accumulation of viscid mucus in larynx.
Inflammation of larynx and trachea; croup; accumulation of mucus in larynx.
Whooping-cough; suffocative, hollow, deep cough caused by a spasm in chest, with expectoration only during the day of small quantities of tough mucus.
The cough is agg. at or soon after midnight, during rest, when lying in bed, or with the head low, from dry, cold air.
Deep, hoarse, hollow cough, with agitation and thirst.
Continued cough with abundant expectoration of a salt taste, or of sweetish mucus.
Attack of suffocating cough, with cries, in children.
Cough with cries, as from a pain in the gullet.
Wheezing and quick respiration.
Obstructed respiration when lying down.
Spasmodic paroxysm of suffocation at night, with tears, great agitation, and tossing of the hands (when waking after midnight out of a slumber, with half-open eyes and mouth, with bloated blue hands and face, and heat without thirst).
Great difficulty in breathing.
Quick, wheezing, crowing breathing.
≡ more ...