Pink Elder, Sambucus, Samb.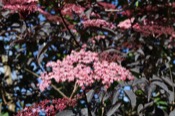 Below are the main rubriks (i.e strongest indications or symptoms) of Sambucus Nigra in traditional homeopathic usage, not approved by the FDA.


Have you ever used Sambucus Nigra? Yes No

APPENDIX
Authorities
(Nos. 1 to 7, from Hahnemann, R. A. M. L., 5, 61). 1, Hahnemann; 2, Franz; 3, Gross; 4, Hartmann; 5, Langhmmer; 6, Wislicenus; 7, Haller, Arzneim, Leipzig, 1806, p. 349, effects of external application; 8, Lembke, A. H. Z., 49, 179, proving with half a teaspoonful of tincture; 9, Christison, Lond. Med. Gaz., 1830, 5, p. 824, effects of eating the leaves and flowers, in a boy; 10, same, effects of eating the flowers only in a boy.
Preparation
Sambucus nigra, Linn.
Natural order, Caprifoliaceae.
Common names, Elder; (G.), Flieder, Schwarzer Holunder; (Fr.), Sureau.
Preparation, Tincture of the leaves and flowers.
≡ more ...