Sage, Salv-o.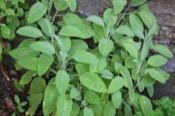 Below are the main rubriks (i.e strongest indications or symptoms) of Salvia Officinalis in traditional homeopathic usage, not approved by the FDA.


Please see our remedy relationship tool to view relationships across more than two remedies

< < Salvia Officinalis- main page
RELATIONSHIPS
Compare
Compare: Chrysanthemum leucanthemum - Ox-eye Bellis Perennis Daisy. Has specific action on sudoriparous glands. Quiets nervous system like Cypripedium. Right sided tearing pain in bones of jaw and temple. Pain in teeth and gums, worse touch, better warmth. Irritable and tearful. Here use 12X. insomnia and night-sweats. For colliquative sweating and hyperaesthesia of nervous system. Material doses of tincture.) Phellandrium Phelland.; Tuberculinum Tuberc.; Salvia sclerata (tonic influence on nervous system; dose, teaspoonful to one pint hot water, as inhalant for sponging). Rubia tinctorum - Madder - A remedy for the spleen ( Ceanothus Americanus Ceanothus.) Chlorosis and amenorrhoea; tuberculosis. Anaemia; undernourished conditions; splenic anaemia. Dose, 10 drops of tincture.
REVERSE RELATIONSHIPS
These are relationship sections of other remedies that refer to Salvia Officinalis. Where the text is greyed out, a relationship with that remedy is already described above.