Sage, Salv-o.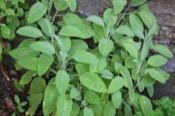 Below are the main rubriks (i.e strongest indications or symptoms) of Salvia Officinalis in traditional homeopathic usage, not approved by the FDA.


Have you ever used Salvia Officinalis? Yes No


< < Salvia Officinalis- main page
GENERAL
General
Controls excessive sweating when circulation is enfeebled; of less use in phthisis with Night-sweats and suffocating tickling cough. Galactorrhoea. Exerts a tonic influence on the skin.
Salvia officinalis. Common Sage. N. O. Labiatae. Tincture of fresh leaves and blossom-tips.
Dose
Tincture, in twenty-drop doses, in a little water. The effects manifest themselves quickly two hours after taking a dose, and they persist for from two to six days.
Clinical
Cough, tickling. Phthisis. Night-sweats. clinical
Characteristics
H. R. (xii. 408) translates from Leip. Pop. Z. f. H., August, 1897, an article on the use of Salvia as a gargle in sore throat, and as a mouth wash in affections of the gums, but more especially in affections of the respiratory organs. The tickling cough of consumptives and the night-sweats were entirely relieved by doses of 20 to 40 drops in a tablespoonful of water. The H. R. translator adds this case Mrs. X. had had for three weeks an irritating cough following an attack of pneumonia. The irritation being particularly great, he gave her, fresh from the garden, some Sage to chew, and the irritation was instantly relieved.