Snow-rose, Rhododendron Chrysanthum, Rhododendron Ferrugineum, Rhod.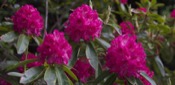 Have you ever used Rhododendron? Yes No


Below are the main rubriks (i.e strongest indications or symptoms) of Rhododendron in traditional homeopathic usage, not approved by the FDA.
THROAT
Throat
Roughness in his throat, early in the morning,
Scraping sensation in the throat; sensation as if tenacious mucus were adhering to the trachea, which he is unable to cough up, during a walk,
Burning in the throat and palate, after eating bread, in the forenoon (first and third days),
Simple pain in the posterior surface of the throat, during the deglutition of food, in the evening (first day),
Tickling in the throat excites a cough,
Uvula and Fauces.
Stitches in the uvula (after one hour),
It contracts the fauces and has a burning taste,
Scraping and scratching sensation in the fauces; sensation as if those parts were lined with mucus,
Burning in the fauces, with constrictive feeling in those parts,
Burning and constriction of the fauces, etc.
External Throat.
Drawing stitches, they seem to extend from the left submaxillary gland towards the cheek (third day),
≡ more ...