Snow-rose, Rhododendron Chrysanthum, Rhododendron Ferrugineum, Rhod.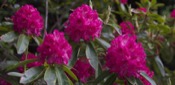 Have you ever used Rhododendron? Yes No


Below are the main rubriks (i.e strongest indications or symptoms) of Rhododendron in traditional homeopathic usage, not approved by the FDA.
MIND
Mind
Delirium; he staggers; tosses his head about and reels; after a short time falls asleep upon his knees; in vain he attempts to rise, but is overcome with sleep for an hour and a quarter, during which he starts continually and appears terrified, but awakes cheerful,
A sort of delirium,
Mental derangement,
Frightful visions,
Gloomy mood, indifferent,
Fits of anxiety,
He is peevish, without any apparent cause,
Indifferent phlegmatic mood; he is neither affected by pleasant or unpleasant impressions,
Aversion to everything, especially to earnest occupations,
While talking he easily forgets what he was talking about; he does not recollect what he had been talking about, till he has thought awhile,
Forgetfulness and sudden disappearance of all thoughts, he omits words in writing,
Stupefaction,
Loss of sense,
Obscuration of the senses,
≡ more ...