Snow-rose, Rhododendron Chrysanthum, Rhododendron Ferrugineum, Rhod.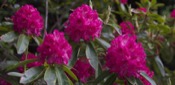 Have you ever used Rhododendron? Yes No


Below are the main rubriks (i.e strongest indications or symptoms) of Rhododendron in traditional homeopathic usage, not approved by the FDA.
GENITALS ETC
Urine
Frequent, urging to urinate, with drawing in region of bladder.
Pain in urethra, as from subcutaneous ulceration.
Increased secretion of very offensive urine.
Greenish urine.
Male
Testicles especially the epididymis, intensely painful to touch; soreness extending into abdomen and thighs; drawn up, swollen, painful.
Induration and swelling of (left) testicle; after gonorrhoea, or with blenorrhoea.
Itching and sweat of scrotum.
Female
Serous cysts of the vagina.
Genitals
Desire weak; aversion to an embrace.
Emissions at night, with amorous dreams, later long continued erections.
Hydrocele.
Soreness or sore sensation between genitals and thighs.
Pain in ovaries; worse in change of weather.
Menses
Menstruation too profuse and too early; with fever and headache.
Suppressed menstruation.
Pregnancy
After parturition, burning in uterine region, alternating with pains in limbs, fingers spasmodically flexed.
≡ more ...