Snow-rose, Rhododendron Chrysanthum, Rhododendron Ferrugineum, Rhod.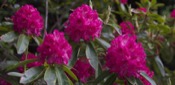 Have you ever used Rhododendron? Yes No


Below are the main rubriks (i.e strongest indications or symptoms) of Rhododendron in traditional homeopathic usage, not approved by the FDA.
GENITALS ETC
Urine
More frequent want to urinate, with drawing in the region of the bladder and in the groins.
Pain in urethra as from subcutaneous ulceration.
Increased discharge of a fetid urine.
Urine clear, greenish, hot.
Twitching and stitches at urethral orifice between acts of micturition.
Male
Throbbings and shootings under glans.
Drawing and pain as from a bruise in testes extending into abdomen and thighs.
Testes, esp. epididymis, intensely painful to touch.
Testes swollen and retracted.
Itching, sweat, and shrinking in scrotum.
Transparent swelling of the scrotum, as from hydrocele.
Swelling of the testicles after gonorrhoea.
Induration of testes; induration and swelling of l. testicle.
Contusive pain in first one then in the other testicle.
Crawling pain in testes.
Female
Serous cysts in vagina.
Womb
After parturition, burning in uterus alternately with pains in limbs, fingers flexed.
Genitals
Pain as from excoriation between genitals and thighs.
Drawing pain in r. testis and cord, amel. by motion; sometimes pricking, beginning r. testis, spreading in zigzag manner along perinaeum to anus, so violent it arrested breathing.
Increased desire.
Aversion to coitus and want of erections.
Profuse emission with amorous dreams.
Pain in ovaries; agg. in change of weather.
Caused rupture of cyst in r. ovary.
Menses
Suppressed catamenia.
Premature and too profuse catamenia.
Fever with headache at each menstrual period.
≡ more ...