Snow-rose, Rhododendron Chrysanthum, Rhododendron Ferrugineum, Rhod.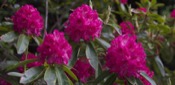 Have you ever used Rhododendron? Yes No


Below are the main rubriks (i.e strongest indications or symptoms) of Rhododendron in traditional homeopathic usage, not approved by the FDA.
GENERALITIES
Sleep
Great sleepiness during the day, with burning in eyes.
Deep, heavy sleep before midnight, with sleepiness early in evening, but sleeplessness after midnight; morning sleep disturbed by pain and restlessness in body.
Awakes as if called.
Nausea and vomiting
Gulping of a rancid or bitter fluid.
Nausea, water-brash, pressure at the stomach, better by belching.
Vomits after fluids, especially cold water, green bitter vomit.
Eating and drinking
While eating 8, 9. After eating 10, 19, 20; fruit 20. Drinking wine 2, 3. After drinking (especially cold water) 16, 17.
Nerves
Paralytic weakness during rest.
Great weakness after slight exertion.
Temperature and weather
Warmth 4, 8, 10. Day heat 4. Summer 20. In bed 40. Cold 10. Open air 7, 40. Wind 8. Change of weather 8, 10, 23. Wet, cold weather 3, 4, 20, 31, 34. Thunder-storm 4, 5, 20, 34.
Chill, Fever and Sweat.
Chilliness in morning in bed, and during day, if cold air blows on him.
Chilliness alternating with heat.
Persistent ice-cold feet in evening, continued long after lying down in bed.
Heat in evening, with cold feet; feverish, with burning in face.
Sensation of heat, especially in hands, although they feel cold to the touch.
Profuse debilitating sweat, especially when moving about in open air.
Offensive-smelling sweat in axillae; spicy odor.
Formication and itching of skin, with sweat.
Attacks
Pains in bones or skin in a small spots; radiating from place to place.
Sides.
Right 6. Left 7, 18, 22, 28, 29. Within outward 5.
Contact, Injuries, etc.
Touch 22, 30, 40.
≡ more ...