Snow-rose, Rhododendron Chrysanthum, Rhododendron Ferrugineum, Rhod.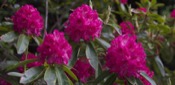 Below are the main rubriks (i.e strongest indications or symptoms) of Rhododendron in traditional homeopathic usage, not approved by the FDA.


Have you ever used Rhododendron? Yes No

GENERALITIES
Sleep
Strong disposition to sleep during day, with burning sensation in eyes.
Profound sleep before midnight, after having gone to sleep early in evening.
Sleeplessness after midnight.
Sleep in morning, disturbed by bodily agitation and pain.
During sleep oppression of chest, a sort of nightmare.
Generalities
We think of Rhododendron chiefly for the sufferings that are agg. in windy weather, even if the patient be not exposed to it; he may be in bed or in a warm, comfortable room, but the blowing of the wind agg. the symptoms.
Tendency to faint in young girls of phthisical tendency who grow rapidly and are upset by thunderstorms (R. T. C.).
Affections in general of the r. upper extremities; r. abdominal ring; l. side of nose; testes; r. lower extremity; inner surface of thigh.
Serous cysts in vagina.
Induration or swelling of the testicles, particularly of the r. one.
Diarrhoea after eating fruit; flatulent colic.
Arthritic nodes.
Dragging up or rooting sensation; crawling of the skin or over the skin like ants; toothache which ceases suddenly, beginning again in two or three hours; feeling of heaviness in stomach after drinking cold water.
Great dejection and painful weariness after the least exercise.
Dropsical swellings.
Frequent remission of sufferings, and appearance of them generally in morning.
Sufferings excited or agg. by cold, damp weather, or by the approach of a storm, as also during repose.
≡ more ...