Snow-rose, Rhododendron Chrysanthum, Rhododendron Ferrugineum, Rhod.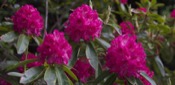 Have you ever used Rhododendron? Yes No


Below are the main rubriks (i.e strongest indications or symptoms) of Rhododendron in traditional homeopathic usage, not approved by the FDA.
EYES
Eyes
When reading and writing the eyes feel somewhat weak (first hours),
Burning in the eyes when looking intently at an object,
Burning in the eyes when looking at the daylight, shortly before rising from bed,
Dry burning in the eyes (sixth day),
Slight burning and pressure in the eyes (first day),
The right eye is affected with a burning pain, and the sight seems to be dim, in the evening when reading,
Periodical burning in the eyes without inflammation, early in the morning (first day),
Burning and feeling of dryness in the eyes, especially in the evening (fifth day),
Burning pain in the eyes; when reading or writing he has a feeling of heat in his eyes,
Periodical smarting pain in the right eye,
Shooting pain in right eye from centre to inner corner (sixth day),
Itching of the eyes,
Orbit.
Sticking pain, with pressure around the margin of the left orbit, with spasmodic contraction of the left eyelids,
Lids.
Suppuration of the eyelids, at night (first nights),
Swollen eyelids, which become easily red (first day),
Moisture of the eyes, and agglutination of the lids,
Twitching of the right upper eyelid (after nine hours),
Frequent twitching of the left upper eyelid, for some time,
Painful pressure in the right internal canthus, as of a grain of sand,
Burning and pressure in the inner canthi, early in the morning, with increased secretion of mucus in them (second day),
Lachrymal Apparatus.
Lachrymation, ,
(Lachrymation in the open raw air),
Ball.
Sticking pain in the right eyeball, as with a red-hot needle, darting from within outward,
Pupil.
Dilatation of the pupil,
The right pupil is very much dilated, the left contracted, with pressure in the left eyeball (first day),
Right pupil smaller than left (seventh day),
Vision
Sensation as of a gauze before the eyes (second day),
≡ more ...