Snow-rose, Rhododendron Chrysanthum, Rhododendron Ferrugineum, Rhod.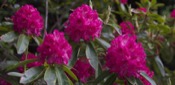 Have you ever used Rhododendron? Yes No


Below are the main rubriks (i.e strongest indications or symptoms) of Rhododendron in traditional homeopathic usage, not approved by the FDA.
EYES
Eyes
Lids; stuck together
stuck together; night
Discoloration; redness; lids
Dryness
Itching
eyebrows
Movement of eyeballs; turned; inwards
Pain
during heat
when using eyes
when reading
before a storm
during a storm
burning, smarting, gnawing, biting
morning
afternoon
during heat
bright light
when looking sharply
while reading
while writing
corner
corner; morning
pulling; pulling the eyeball backward
pressing
in corner; inner
stitching, sudden, sharp; while reading
stitching, sudden, sharp; before a storm
stitching, sudden, sharp; extending outward
Paralysis
esophoria (eyes turned inward, cross-eyed)
of muscles of eyeball; internal recti (to move eye towards other eye)
Pupils
contracted; left; right dilated
contracted; one contracted, the other dilated
dilated
unequal
Quivering; lids
Strabismus (eyes incorrectly aligned); divergent
Tears
Twitching; lids
Weak
Vision
Dim
evening
when reading
when reading
while writing
Exertion of vision
Foggy
≡ more ...