Snow-rose, Rhododendron Chrysanthum, Rhododendron Ferrugineum, Rhod.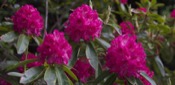 Have you ever used Rhododendron? Yes No


Below are the main rubriks (i.e strongest indications or symptoms) of Rhododendron in traditional homeopathic usage, not approved by the FDA.
EYES
Eyes
Pressive shootings in the margin of orbits, with spasmodic contraction of eyelids.
Darting like arrows through eye from head agg. before a storm.
(Severe r. keratitis with aching in r. side of head and forehead, agg. in thunder.)
R. T. C.).
Aching in eyes, commencing on one side of face.
Sticking pain in r. eyeball, as with a red-hot needle darting from within outward.
Sensation of dryness and burning in eyes from time to time, esp. in bright daylight and when looking steadily at an object.
Suppuration of lids at night.
Irritation of lids (agg. R. T. C.).
Swollen lids which become easily red.
Agglutination of lids.
Quivering jerks in lids.
Contraction of one pupil while the other is dilated.
Clouded sight when reading and writing.
Eyes tire easily (agg. and cure.)
R. T. C.).
≡ more ...