Pulsatilla Nigricans, Pulsatila, Pratensis, Wind Flower, Pulsat, Pasque Flower, Puls.
HPUS
indication of Pulsatilla:
Weeping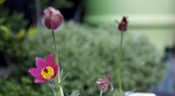 Below are the main rubriks (i.e strongest indications or symptoms) of Pulsatilla in traditional homeopathic usage, not approved by the FDA.


Have you ever used Pulsatilla? Yes No

EARS
Ears
Deafness as if ears were stopped up; after suppressed measles; with otorrhoea; from cold after cutting hair; with hard, black cerumen.
Can hear better on the cars.
Severe pain in ear, continuing through night, with paroxysms of increasing severity, but causing little concern during day; bland, nearly inoffensive, discharge of mucus and pus.
Roaring in ears, better out-doors; also, humming or tingling.
Phlyctenulae (to prevent ulceration).
Otalgia, with darting, tearing pains, and pulsating at night.
External ear and meatus red and swollen; scabs on tragus.
≡ more ...