Pulsatilla Nigricans, Pulsatila, Pratensis, Wind Flower, Pulsat, Pasque Flower, Puls.
HPUS
indication of Pulsatilla:
Weeping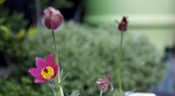 Below are the main rubriks (i.e strongest indications or symptoms) of Pulsatilla in traditional homeopathic usage, not approved by the FDA.


Have you ever used Pulsatilla? Yes No

CHEST
Lungs
Phthisis florida, suppurative stage; chlorotic girls.
Soreness in chest; under clavicles.
Pain in chest, as if ulcerated.
Stitches in side only when lying, particularly at night.
Paroxysms of burning in chest.
Obstinate bronchial catarrh.
Congestion to chest and heart at night; with anxious dreams.
Pulse
Beating through chest interrupts sleep; old maids.
Respiration
Sticking in chest, worse from deep breath, or coughing.
Asthma especially of children after suppression of rash; in hysteria, or with suppressed menses; in the evening, especially after a meal.
Dyspnoea and vertigo, with weakness in head, when lying on the back; at night, in bed, as if throat or chest were constricted; or as if fumes of Sulphur sulphur had been inhaled; morning, low down in chest.
Oppression of chest on walking fast, ascending an eminence, or exercising.
Heart and pulse
Catching pain in cardiac region, better for a time from pressure of hand; pains, with but little or no anxiety.
Burning in region of heart.
Heaviness, pressure or sensation of fulness every evening.
Palpitation in violent paroxysms, often with anguish and obscuration of sight; trembling of limbs; from chagrin, fright, or joy; with catamenia, chlorosis; strong with suppressed pulse; after dinner.
Pulse accelerated, small and weak; frequent in evenings; with distended blood-vessels, slower in morning; often scarcely perceptible.
Outer chest
Chest pains as if bruised.
≡ more ...