Peppermint Ment.
HPUS
indication of Mentha Piperita:
Dry cough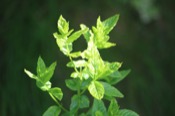 Below are the main rubriks (i.e strongest indications or symptoms) of Mentha Piperita in traditional homeopathic usage, not approved by the FDA.


Have you ever used Mentha Piperita? Yes No


< < Mentha Piperita- main page
APPENDIX
Supplement
MENTHA PIPERITA.
Authority.2, P. C. Remondino, M.D., Med. and Surg. Reporter, vol. xiv, 1866, p. 278, a boy, aged six years, took between 1 and 2 ounces of the essence, and died in two hours.
Insensible (after five minutes). Motionless; limbs relaxed; slow, full pulse; stertorous breathing; cold skin; livid lips; immovable pupils; eyes fixed (in twenty minutes),
≡ more ...