Blue Flag, Iris vers, Iris v, Iris.
HPUS
indication of Iris Versicolor:
Headache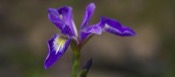 Have you ever used Iris Versicolor? Yes No


< < Iris Versicolor- main page

Below are the main rubriks (i.e strongest indications or symptoms) of Iris Versicolor in traditional homeopathic usage, not approved by the FDA.
THROAT
Throat
Sore throat, with constriction of pharynx and difficult deglutition.
Pains in tonsils shooting into ears.
Sometimes burning sensation, with feeling of enlargement like a burning cavern, while throat is dry, injected and of a bright red colour.
A peculiar irritability of throat sometimes attended with cough.
Spasms of pharynx while swallowing food.
Burning from fauces to stomach, amel. inspiring cool air, agg. exposure.
Feeling as if a horsehair were drawn tightly across l. palate with burning and smarting.
Cold water amel. burning short time only.
≡ more ...