Blue Flag, Iris vers, Iris v, Iris.
HPUS
indication of Iris Versicolor:
Headache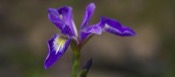 Have you ever used Iris Versicolor? Yes No


< < Iris Versicolor- main page

Below are the main rubriks (i.e strongest indications or symptoms) of Iris Versicolor in traditional homeopathic usage, not approved by the FDA.
HEAD
Head
Fulness in and heaviness of the head.
Head and face are cold.
Sensation of constriction around the forehead (when trying to cough).
Dull throbbing or shooting in r. side of forehead, with nausea; agg. toward evening; from cold air or coughing; amel. from moderate motion.
Aching in forehead and vertex as if the top of the head would come off.
Stitches in the lower part (r. side) of the cerebellum.
Headache
Headache (temples and eyes), with distressing vomiting (of a sweetish mucus, occasionally with a trace of bile).
(Sick headache invariably induced by eating anything sweet.).
Dull, heavy frontal headache, with nausea, with dulness of eyes and pain over l. superciliary ridge.
During headache, nausea and profuse salivation.
Recurrent sick headaches with constipation.
Scalp
Shooting in the temples, mostly r., with constrictive feeling of the scalp.
Pustular eruption on the scalp.
≡ more ...