Blue Flag, Iris vers, Iris v, Iris.
HPUS
indication of Iris Versicolor:
Headache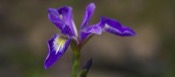 Have you ever used Iris Versicolor? Yes No


< < Iris Versicolor- main page

Below are the main rubriks (i.e strongest indications or symptoms) of Iris Versicolor in traditional homeopathic usage, not approved by the FDA.
GENITALS ETC
Urine
Pain in r. kidney.
Cutting and pricking in the urethra while urinating with coldness and itching of genitals.
(Urine of high specific gravity containing sugar.).
Urine voided in large quantities.
Urine of disagreeable odour.
Urine thick, of strong odour, deep colour.
Urine passes without force.
Male
Inflammation of glans, which is much swollen and red.
Womb
Neuralgia and rheumatism of uterus.
Inflammation and soreness of uterus, very sensitive to touch; pain across umbilicus, griping at intervals, nausea and vomiting of green or yellow bile, eructations of much flatus between the vomitings; yellow bilious diarrhoea. (Miscarriage.)
Genitals
Coldness and itching of the genitals.
Emission with amorous dreams.
Leucorrhoea.
Morning sickness of pregnancy, vomit sour or bitter; protracted nausea; profuse ropy saliva tenderness over stomach.
Menses
Menses regular but excessive.
≡ more ...