Blue Flag, Iris vers, Iris v, Iris.
HPUS
indication of Iris Versicolor:
Headache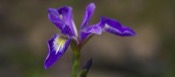 Below are the main rubriks (i.e strongest indications or symptoms) of Iris Versicolor in traditional homeopathic usage, not approved by the FDA.


Have you ever used Iris Versicolor? Yes No


< < Iris Versicolor- main page
GENERALITIES
Nausea and vomiting
Eructations tasteless, or of sour food.
Nausea and vomiting of sour fluid that excoriates throat; sour vomit with the headache.
Vomiting of food, an hour after eating; of bile, with great heat and sweat.
Eating and drinking
Headache after breakfast; aching in the stomach before breakfast and after a cold drink.
Milk sours and is vomited.
Tissues
Excites the secretion of the glands; salivary, pancreatic, intestinal, etc.
Iris Versicolor acts powerfully on gastro-intestinal mucous membrane.
Nerves
Faint, weak knees, trembling; sunken eyes; after protracted or severe sero-bilious stools, as in summer diarrhoea.
Temperature and weather
Cold air 3, 13. When covered 40.
Chill, Fever and Sweat.
Chills, with sleepiness.
Heat followed by chill, with cold hands and feet.
Chills over the whole body, even when well covered; fever with muttering delirium and bilious diarrhoea.
Skin hot; dry, black stool.
Sweat all over, particularly on the groin.
Attacks
Every morning 8. Every eighth day 3.
Sides.
Right 3, 4, 28, 34, 36. Right to left 10. Below upwards 17, 24.
≡ more ...