Blue Flag, Iris vers, Iris v, Iris.
HPUS
indication of Iris Versicolor:
Headache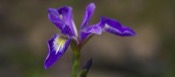 Have you ever used Iris Versicolor? Yes No


< < Iris Versicolor- main page

Below are the main rubriks (i.e strongest indications or symptoms) of Iris Versicolor in traditional homeopathic usage, not approved by the FDA.
FACE
Face
Neuralgia after breakfast, beginning in infra-orbital nerve, and involving whole face.
Coldness
Coldness; cholera
Expression; anxious
Lips
cracked lips
dryness
out-breaks on lips; pus-filled pimples
Pain
right
morning
after breakfast
morning; on waking
after eating
exertion
affected by movement (for better or worse); movement
below eye
pressing; right
Skin
discoloration; bluish; circles around eyes
discoloration; red
out-breaks on skin; acne; chronic, especially nose and cheeks
out-breaks on skin; boils
blood boils, small
out-breaks on skin; eczema
out-breaks on skin; pus-filled pimples
fetid green discharge
cheeks
nose
Swelling; parotid gland (gland in front and below ear lobe)
≡ more ...