St. John's-wort, Hypericum, Hypericum Perfoliatum, Hypericum perforatum, millepertuis, Hyper.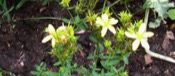 Below are the main rubriks (i.e strongest indications or symptoms) of Hypericum Perforatum in traditional homeopathic usage, not approved by the FDA.


Have you ever used Hypericum Perforatum? Yes No


< < Hypericum Perforatum- main page
SKIN
Skin
Objective.
Some small pimples on the skin,
Biting eruption like nettle-rash on both hands; she was obliged to scratch until they were almost sore (eighth day),
Violent biting on both hands; nettlerash eruption on the backs of the hands and between the fingers (fifth day),
Subjective.
Crawling in the skin at times,
Great itching, especially in the sacral region, in the evening on undressing; the skin felt rough and seemed full of little pimples (tenth day),
(Ulcerating pain in the morning in a vesicle on the thigh), (fifth day),
Biting in the fingers of the left hand, in the evening (ninth day),
Violent biting on the back of the hands, in the evening (second day),
Crawling in the hands and feet, they felt fuzzy (third morning),
Tingling in the feet,
(Itching on the forehead, vertex, and hip),
(Itching on both cheeks, especially in the beard), (second day),
The feet seem fuzzy, with sticking in them as from needles (fourth day),
≡ more ...