St. John's-wort, Hypericum, Hypericum Perfoliatum, Hypericum perforatum, millepertuis, Hyper.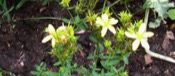 Please see our remedy relationship tool to view relationships across more than two remedies

< < Hypericum Perforatum- main page

Below are the main rubriks (i.e strongest indications or symptoms) of Hypericum Perforatum in traditional homeopathic usage, not approved by the FDA.
RELATIONSHIPS
Relationship
Cures where formerly, Aconite Acon. and Arnic. were given in alternation in wounds.
Antidotes
Antidotes to Hyper. Arsenicum Album Arsen. against weakness or sickness in the morning; Chamom. for pain in face; mesmerism; Sulphur Sulphur.