St. John's-wort, Hypericum, Hypericum Perfoliatum, Hypericum perforatum, millepertuis, Hyper.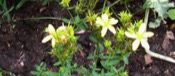 Please see our remedy relationship tool to view relationships across more than two remedies

< < Hypericum Perforatum- main page

Below are the main rubriks (i.e strongest indications or symptoms) of Hypericum Perforatum in traditional homeopathic usage, not approved by the FDA.
RELATIONSHIPS
Compare
Compare Aconite Aco., Chamomilla Cham., Coffea Cruda Coff. (exalted sensitiveness); Arnica Arn., Calendula Officinalis Calend., Led., Ruta Graveolens Ruta, Conium Mac Con., Bellis Perennis Bellis, Staphysagria Staph., Allium Cepa Al. cep. (wounds); Hydrob., Lachesis Lach. (bites); Nux Vomica Nux (tetanus); Gelsemium Sempervirens Gels., Lathyrus Sativus Lathyrus; spastic paralysis. Causation.
Antidotes
Antidoted by Arsenicum Album Ars. (weakness or sickness on moving); Chamomilla Cham. (pains in face). It antidotes Effects of mesmerism (Sulphur Sulph.).
Relations
Fright. Bites. Wounds. Shock.