St. John's-wort, Hypericum, Hypericum Perfoliatum, Hypericum perforatum, millepertuis, Hyper.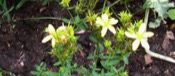 Below are the main rubriks (i.e strongest indications or symptoms) of Hypericum Perforatum in traditional homeopathic usage, not approved by the FDA.


Have you ever used Hypericum Perforatum? Yes No


< < Hypericum Perforatum- main page
MOUTH
Teeth
General Mouth.
Mouth dry, ; (after one hour),
Dry burning heat in the mouth, at 5 P.M. (first day),
Gums and teeth
Tension in the teeth, in the forenoon (fourth day),
Aching in the teeth, in the forenoon (second day),
Drawing toothache in the whole lower jaw, lasting a short time, after midnight (third day),
Tearing here and there in the teeth (second day),
Tearing toothache in the right upper and lower jaws, on waking, at 3 A.M. (fourth day),
Dull jerking pain in the teeth and cheeks, in the afternoon (third day),
Saliva
Saliva.
Much mucus in the mouth after eating,
Tongue
Tongue.
Tongue, coated, in the morning,
Tongue coated white, ; (eighth day),
Tongue whitish-gray, especially at the base,
Tongue coated dirty yellow (eighth day),
Taste
Taste.
Bad taste in the mouth, eructations (fifth day),
Taste of blood in the throat following the stool; on hawking expectoration of bright-red bloody sputa (third and sixth days),
≡ more ...