St. John's-wort, Hypericum, Hypericum Perfoliatum, Hypericum perforatum, millepertuis, Hyper.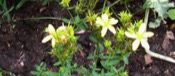 Below are the main rubriks (i.e strongest indications or symptoms) of Hypericum Perforatum in traditional homeopathic usage, not approved by the FDA.


Have you ever used Hypericum Perforatum? Yes No


< < Hypericum Perforatum- main page
MODALITIES ETC
Aggravation
(Morning), On waking, confusion of head; on waking, vertigo, etc., head heavy, etc., on waking headache in vertex; sneezing; at 3 o'clock, toothache; on waking, weakness, etc.
(Forenoon), Pains in teeth.
(Afternoon), Heaviness in head; throbbing in vertex; etc.; pain in teeth; burning in chest; drawing, etc.; in back; at 4 o'clock, chilliness.
(Night), Pains in face; after midnight, toothache in lower jaw; troubles from flatulence; cramp in calves.
(Motion), Pain in occiput, stitches through chest; lameness, etc., in muscles; shuddering.
Appetite
Great appetite in the morning (second day),
Great hunger, at noon (second day),
Speedy satiety, without pressure in the stomach,
Diminished appetite, aversion to eating,
No appetite in the evening (first day),
No relish for breakfast (second day),
Thirst.
Thirst (fifth day),
Thirst, on waking from sleep; is unable to drink on account of choking in the throat and heat,
Thirst, with feeling of heat in the mouth (after seven hours),
Great thirst (after one hour),
Violent thirst (eighth day),
Most violent thirst (third morning),
Eructation.
Frequent eructations, with pressure on the chest,
Eructations without taste, on drinking water (after two hours),
Frequent empty tasteless eructations, without having eaten anything, at 5 P.M. (first day),
Bitter eructations (second day),
Eructations of mucus, with burning and pressure in the stomach, in the morning,
Great heat rising up in the throat, in afternoon (second day),
Retching,