St. John's-wort, Hypericum, Hypericum Perfoliatum, Hypericum perforatum, millepertuis, Hyper.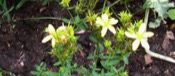 Below are the main rubriks (i.e strongest indications or symptoms) of Hypericum Perforatum in traditional homeopathic usage, not approved by the FDA.


Have you ever used Hypericum Perforatum? Yes No


< < Hypericum Perforatum- main page
MIND
Mind
Felt as if excited by tea, all day (second day); at night (third day),
Religious thoughts, hopeful (fourth day),
For a week past, impure ideas have very seldom presented themselves by day; the mind has been reposing on higher thoughts (seventh day),
Low spirits (fourth day),
Mind soberly inclined for three days (ninth day),
Mind disposed to be sad and tenderly melancholy (eleventh day),
Temper touchy, irritable; inclined to speak sharply (second day),
The tone of the nervous energy keeps up in a truly remarkable manner all through, and the mind is firm, and views all things with cool consideration (ninth day),
Made mistakes in writing, evening (third day),
Mistakes in writing, right for left, or ulna for radius (second day),
Forgets people's names (tenth day),
≡ more ...