St. John's-wort, Hypericum, Hypericum Perfoliatum, Hypericum perforatum, millepertuis, Hyper.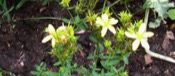 Have you ever used Hypericum Perforatum? Yes No


< < Hypericum Perforatum- main page

Below are the main rubriks (i.e strongest indications or symptoms) of Hypericum Perforatum in traditional homeopathic usage, not approved by the FDA.
INJURIES AND ACCIDENTS
Injuries and accidents
Injuries in general
Injuries of nerves with great pain
Shock from injury
Stings of insects
Wounds
bites of poisonous animals
crushed and lacerated finger ends
painful
penetrating wounds
of palms and soles
from splinters
≡ more ...